28 mars 2010
7
28
/

03
/

mars
/

2010
08:28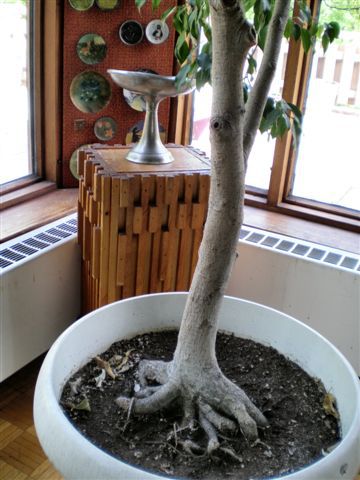 First Unitarian Congregation of Ottawa : the chalice and the tree (photo Jean-Claude Barbier)
Unitarianism, which appeared at the time of the Protestant Reformation in 16th century Europe, developed initially in Hungarian speaking (Transylvania in Rumania, Hungary) and English speaking (United Kingdom, the Commonwealth, the United States) countries, then spread, in the 20th century, to Central and Northern Europe and finally, now at the beginning of the 21st century is spreading to other countries in Asia, Latin America, Sub-Saharan Africa and Western Europe.
It follows that contemporary Unitarianism contains both a wide variety of spiritual and religious perspectives stemming from numerous trends developed over the centuries (the historic Unitarian churches, Unitarian congregations, Universalists and Unitarian Universalists, Christian Unitarian associations, etc.) and divers cultural and linguistic elements.
Our international body, the International Council of Unitarians and Universalists (ICUU), by awarding emerging group status to new Unitarian communities, is guiding and fostering the expansion of our faith along the principles set out in the preamble of its constitution: "identify and nurture emerging groups around the world; for mutual inspiration, development and growth". It has helped train leaders in workshops for Latin America (San Nicolás de los Arroyos, near Buenos Aires in Argentina, January 20-25, 2005) and for Sub-Saharan Africa (Nairobi, Kenya, February 7-12, 2008).
We also commend the Canadian Unitarian Council's inclusion of French activities in its annual gathering to be held in Ottawa, May 16 to 19, 2008. We hope the Ottawa example will encourage the development of multilingualism at all levels in contemporary Unitarianism: in the meetings and worship services of our congregations; in the pages of the ICUU web site (in French, Spanish, German, Esperanto, etc.) and any national web sites when necessary; in workshops and worship services during gatherings; in our publications ; etc.
We invite all Unitarian francophones and their friends to participate enthusiastically in their local congregations, to praise God or Life in their own language and through their own culture, to gather in groups or associations to deepen their faith, to network and share information, to know one another better, to help each other, etc.
In this way, francophone Unitarians from Western Europe (France, Wallonia and the French community of Brussels, Switzerland), from Canada (Montréal and Ottawa congregations, etc.) and from Sub-Saharan Africa (Burundi, Congo-Brazzaville, Congo-Kinshasha, Togo, etc.) hope to further develop their fraternal ties along the lines of the cooperation accord signed by the Regroupement francophone unitarien universaliste (RFUU) and Christian Unitarian associations (AFCU, ACUB, ACUC) in July 2006.
Jean-Claude Barbier, Assemblée fraternelle des chrétiens unitariens (AFCU)
Fulgence Ndagijimana, Assemblée des chrétiens unitariens du Burundi (ACUB)
Alain Patrice Yengué, Assemblée des chrétiens unitariens du Congo (ACUC)
Grégoire Bokungu, Lisanga ya bandimi na nzambe (République démocratique du Congo, Kinshasa)
Lucie-Marie Castonguay-Bower, Regroupement francophone unitarien universaliste (RFUU)
translated from the french by Maurice Cabana-Proulx
document publié le jeudi 29 mai 2008 sur le site de l'AFCU et transféré ici